There are few things in life that can't be improved with a touch of added sparkle!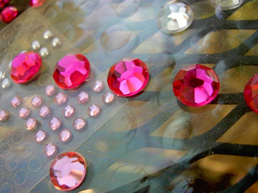 If you are rhinestone obsessed, and just can't buy enough sparkly things, then it's time to create your own! Do-It-Yourself (DIY for short) projects are not only fun, but they allow you to completely transform and customize your look into a one-of-a-kind original. The current explosion of social sharing sites, like Pinterest and Facebook, makes finding inspiration as easy as browsing through other people's great ideas.
If you are ready to start adding a bit …okay, a lot … of sparkle to your life, here are some of the most popular rhinestone ideas for your style, home and special occasions!
Rhinestone Your Style
Nail art has grown exponentially in popularity over the last few years. If you can dream it, then chances are a nail salon can do it for a hefty price! However, you can recreate many of these glam looks at a much lower price by doing them yourself. The ideas for 3-D nails are endless. Be creative, get inspired with a little online research and get to work creating your new signature style.
All you need are flat back rhinestones, base coat, nail polish, top coat and toothpicks. Simply apply the base coat as normal and wait for it to fully dry. Once it is set, use the toothpick to add a bit of the base coat to the back of the perfect rhinestone. Very carefully and lightly place the rhinestone anywhere on your nail – it's your hand, so show your personality on those fabulous digits! Be careful: unless you want messy fingernails that look DIY, resist the temptation to push down hard on the rhinestone (this can make the base coat come out from the sides of the gem). Now, apply the top coat and voila, nail studio quality at homemade prices!
When it comes to rhinestones on clothing, there are almost too many options! Here are just a few to try out.
Hats

– Everyone loves representing her favorite sports team at a game, or on the go, with a baseball hat. If you want to add that touch of feminine flare, try placing rhinestones around the logo, or maybe on the brim – your gems can really go anywhere you would like. Flat back rhinestones work well or you may want to use hot fix stones on this one.  These gems already have glue on the back and adhere with the use of a hot fix tool.
Baby clothes

– After your baby shower, did you sort through your gifted baby clothing and notice certain ones that weren't exactly your little one's style (you already know your baby will be fabulous, right)? Not to worry, add some rhinestones and bling out baby! Also, put them on baby accessories; everyone will adore your new blue gem bottles, pink jewel pacifiers and super sapphire shoes
Denim

– Couture jeans often have those cute rhinestone back pockets that create a lasting impression as you walk away. While we all love this touch of embellishment, we don't love the high price. Add some sparkle to your own jeans with rhinestones. If you want a simple, glamorous look, go for classic European crystals. For an edgier vibe, choose some brilliant colored or neon stones. Don't stop at jeans – reveal an unexpected glimpse of glam by applying rhinestones to your denim jackets, skirts, shorts or skorts.
One of the many great things about being a girl is that you not only can customize your clothing, but your hair and makeup can be just as unique as you. Creating hair accessories with rhinestones is a fun project.
Headbands

– Whether for yourself or a loved one, rhinestones can easily be applied to any plain headband. You can even add them to your favorite athletic headbands so you look glamorous while sweating it out at the gym.
Ponytail holders

– There are certain outfits for nights out that call for an updo. Adding one little touch – aka a large rhinestone – to the back of your ponytail will complete your glamorous look.
It's arguably a toss-up between shoes and diamonds in a contest for girl's best friend. When you add sparkle to your shoes, you have reached the epitome of happiness. Try finding a place for bling on your flip flops or heels. Glue them along the back of your stiletto, or underneath the sole of your heel, to create a high fashion look.
When dressing up for a night out, a good clutch can add to the overall appeal of your outfit. Do you have any old clutches that have lost their place among the favorites in your closet? Bring them back to life with rhinestones. This is ideal for creating a look for a specific dress; rhinestones come in nearly every color, so you can make an old clutch into the perfect complement to your personal style.
If you are like most people, your cell phone rarely leaves your side. For something so permanent and visible, you need to make it look as good as you! Buy a plain plastic case and get creative with rhinestones. Create words, stripes of different colors or go with one main shade.
Rhinestones @ Home
Furniture
While clothing and nails may have already been on your DIY list, have you ever thought about adding some bling to your bedroom suite? Furniture jewelry is another recent trend that has us asking for more. Customizing furnishings, like old desks or cabinets, is not only a fun hobby, but it can bring in a little extra spending money. Many people do this as a side business and sell their refurnished pieces online or at local shops. There are many options, but here are some of our favorites.
Drawer knobs

– Whether you are redoing a piece to sell or keep, one look that adds pizazz is rhinestone-encrusted drawer knobs. You can get creative with size, color, uniformity or placement. Add rhinestones around other areas of the dresser or desk to make the look even more pronounced. Here's a tip: hot fix rhinestones work best.
Lamps

– Wouldn't that lamp shade or base look more alive with rhinestones? If you are more a fan of an embellished candle holder, these same enhancements can be used to glam it up.
Fabric headboard

– By now, you may not be surprised to know that you can create your own beautiful rhinestone and fabric headboard. Take (or make) crystal buttons and use them to design a tufted headboard. This looks especially beautiful on white fabric as an added touch of class. Got some cushions in need of a little work as well? Use the same methods we just discussed, and match your sleep retreat with your dazzling rhinestone-filled rest.
Everyone loves homemade decorations and ornaments around the holidays. These become keepsakes that stay in your family for generations. Rhinestones are a great addition whether you create stunning Easter ornaments or festive Christmas decorations (you can even create a new star for the top of the tree). Include the entire family – join together to make lasting memories with this new tradition.
Dog Collars and Harnesses
Custom dog harnesses and collars are all the rage. No one knows your dog's personality better than you, so why would you buy pre-made pet accessories? This DIY project could not be simpler – buy the aforementioned nylon collar or harness and add your best friend's favorite rhinestones. You can stick with one color, go with many use large stones or combine dozens to catch the light at all angles.
A Rhinestoned-Special Occasion
Wedding Centerpieces
Weddings are expensive no matter how closely you stick to the budget. Ordering expensive centerpieces should be one of the first cost savers you consider when slimming down your spending. Why? Well, with a little bit of glue, and a whole lot of rhinestones, you can make even better centerpieces than the store-of-your-choosing's overpriced selection. Here's an idea: add small European crystals along the outside of candles. You can match this look by including very tiny rhinestones as part of your flowers. A little bit of sparkle around the edges of your roses can create that unforgettable eye-grabbing effect every woman hopes to achieve on her wedding day.
While you are busy blinging out your centerpieces, you can kill two birds with one rhinestone (or two). Your bridesmaids are your best friends, so why not create custom gifts for them? One popular trend is decorating t-shirts for the bachelorette party, rehearsal dinner or the morning leading up to the "big day." Since they are tied to weddings, these gifts are sold for a small fortune online, but you can make even better ones on your own. Simply buy plain cotton tank tops or t-shirts, create a design or saying to add and then attach the stones.
If you have ever watched one of those wedding dress shopping reality shows (or experienced the process in-person), you know the more bling on a dress, the more it will cost. All too often, you hear things like, "It's in my price range but it's just so plain." That is easily (and inexpensively) fixable with a little bit of imagination, and of course, European crystals. Whether you want to create tufted crystal pull-ups on your train, or add rhinestones to your veil, you can go with a plainer dress that you love, add stunning touches yourself and achieve the dress of your dreams.
Graduation Caps
If you have a high school student in your home, you already understand how important being an individual can be for teens. Why not suggest customizing his or her graduation cap? You can spell out the class year, names or a special message. Just think: during the ceremony you will be able to admire your handiwork, and since the pictures will be around forever, your design will be a permanent reminder of your child's unique personality.
Author
Jason Pistiner
Google