When it comes to your wedding day, sparkles are a must! For those who love the classic look of European crystals, there is no better day to get completely glam. These crystals are the ideal way to add a bit of glitz to your day without breaking the bank with premade centerpieces or arrangements.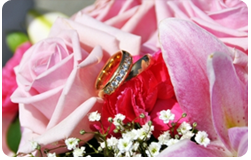 Unfortunately, whenever the word 'wedding' is added to anything the cost of the products skyrockets. For this reason, taking on as many DIY projects as you can will save you big money on your wedding day. You can get all the sparkle you have ever dreamed of with the personal touches that will make you wedding completely unique.
Flower Accents
There are many different ways you can dress up your floral arrangements with crystals for your big day. One look that adds some subtle sparkle to your bouquet or floral arrangements is the addition of hot fix European single crystals on random petals of your flowers. With these simple additions, you will add some subtle sparkle in a completely unique way. It gives the appearance of dew drops that catch the light and sparkle. Choose either traditional silver stones or match them with the color of the flower petals.
If you would like to add them to your bouquet, simply use ribbon to bundle the flowers and use hot fix crystals to accent the ribbon. Cover the entire ribbon or simply add accents here and there.
Candles
One of the most gorgeous looks is the rhinestone pillar candle. Take a white or off white candle and attach European crystals all around it. If you try buying these in a store, specifically if they are marketed as wedding accessories, you will pay much more. It's a fun and easy project that's perfect for a girl's night with your bridesmaids.
If you prefer plain candles with glitzy candle holders, this is another easy option. Pick up some simple holders and add crystals around the base. You can go with small accents or cover the whole thing, whatever will make your day just the way you like it!
Centerpieces
One of the most gorgeous and elegant looks is the European centerpiece. One extremely elegant choice is to use branches (either real tree branches or metal ones) and attach string crystal pendants with fishing wire. Use different shapes, sizes and colors to create a unique focal point. Attach these to the branches so you have a weeping willow tree effect with the crystals.
Shoes
This is probably the most fun of all wedding bling projects. Wedding shoes are expensive and depending on what kind you get, they likely aren't going to be shoes you wear on the daily. This is just one more reason to bling them out 'till your heart's content. One look that is sure to stun is the crystal heel. Simply take hot fix crystals and attach them all around the stiletto heel. If you are going with the more practical comfortable shoe approach, adding some sparkle is a great way to stay with the festive wedding theme. Many brides are now choosing cute sneakers or flip flops to change into for the reception. What fun is dancing if your feet hurt right? Add crystals to your practical footwear and it goes from plan to wedding worthy in a snap!
Veil
The wedding veil is a classic staple that transforms a woman in a white dress in to a bride. As soon as that veil is attached the tears start flowing! Make it unique while saving some of those much needed wedding dollars by purchasing a very plain inexpensive veil and then decorate it yourself.
Nails
Wedding nails are important, after all they will be in your photos forever. You will inevitably have those close up ring shots so be sure your nails are just the way you want them. If you are not the best at doing your own nails,(and let's face it who really is?) bring a few of your own crystals to your favorite nail salon and have them adhere them as you would like. Using white gel polish with silver European accents is a timeless and classic look.
Bridal Party Loungewear
Getting ready for the big day is a fun time of salon sessions, mimosas and last minute best friend bonding. One popular trend is to have loungewear customized with the bride and groom's name, date of the wedding and other personal touches. You can buy these ready-made but you will pay more in the long run. Add this project to your DIY list and have fun customizing these comfy clothes for the morning of the big day. They look great in photos and will give your bridesmaids a great keepsake from the big day.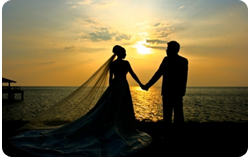 Wine/Champagne Glasses
One commonly forgotten glitz possibility is the champagne or wine glasses for the head table. The bride and groom can have these classy and sparkly keepsakes to remember toasting their love and commitment. Add crystals up the stem of the glass, around the base or both! It's your day so don't be afraid to get creative and customize the stemware to your exact liking.
Announcements
Wedding announcements are an exciting preparation for the wedding, they bring you one step closer to the big day and let your friends and family know the particulars of your wedding. If you are adding crystal to many of your wedding decorations, tie in the theme by attaching crystals to your invites. It allows people to get a hint of what they can expect when they walk into your reception area.
Table Numbers and Place Settings
There are so many cute ideas out there for name cards and table numbers. If you search online you can find a variety of inspiration. Once you decide on the look, add some crystals here and there to tie the theme together. One popular choice is to use photos of the couple. You can decorate the frames with crystals to add to the focal point.
Author
Jason Pistiner
Google