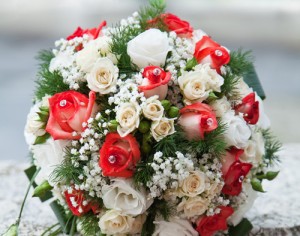 Wedding season is here again! Gone are the days of sighing "always a bridesmaid and never a bride," it's finally your time to shine! If you want to add some extra DIY glam to your big day, there is no better way to begin than checking out all your European crystal options. There are so many ways to glam up the big event from shoes to candle holders and jewelry, but there is also another way to sparkle and shine while saving a dime! DIY projects allow you to completely customize your look without having to pay over inflated wedding bouquet prices.
Try any of these ideas for adding extra shine to your wedding day. Simply buy loose, flat back European crystals and let your imagination do the rest. Here are some great ideas for building your custom wedding bouquet with European crystals.
Bouquet Holder
This new trend is simply stunning. When you walk down the aisle, all eyes will be on you. Make your bouquet a magical one with this DIY holder. First, figure the exact dimension you will need to hold your flowers and then head to the hardware store…yes, you read that right, the hardware store! Select the correct dimensions in PVC pipe and get a cap on the end (this will be the bottom of the holder). Next, select a spray paint that is designed for use on plastics in a shade similar to the color you will be using for the crystals (for example, choose silver or gray if you are going with traditional European) paint the pipe and let it dry.
Next, using gem glue, begin attaching the crystals around the PVC pipe until the entire plastic surface is covered. That's it! You might also want to extend this idea for the bridesmaid's bouquets as well. Simply select another color and complete the process once again. These look amazing in photographs!
Petal Bling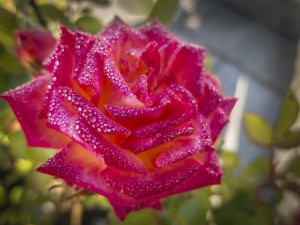 If you are looking for a slightly more subtle sparkle, petal bling is gorgeous. This can work with both fresh and artificial flowers. In fact, another money-saving tip is to go half and half between silk flowers (which are easier to affix crystals to) and fresh flowers. Whichever way you prefer, European crystals are a definite must! Once you decide on the flower color/type you will use, select the color of European crystals you would like to add. If you are adding these to real flowers, you will want to attach them to the petals right before the ceremony so that they stay looking great. If you are going the silk bouquet route you can do this ahead of time so that everything is set and ready to go!
Crystals Stems
This idea looks gorgeous on wedding day and it's actually a pretty easy project. You will need the crystals of your choosing, floral wire, wire cutters a screw hook and an electric drill. Measure how long you would like the stems to be. Ideally you would like them to mix in with the height of your actual flower stems. Cut the wire and place one of more crystals in the center. Twist from the top by hand to secure the crystals and then take the bottom of the wires and wrap them around the hook and screw on the drill. While holding on to the crystals, let the drill spin the wires around one another. Now just trim to bottoms so they are neat and tidy and give them to your florist to work in to your bouquet or add them yourself.