Bathe the baby, feed the baby…bling the baby?!? You better believe it!
It's only natural that our love for all things shiny and sparkly gets passed down to the next generation. Adding your own custom touches to your baby's clothing and accessories with rhinestones is a great way to explore your creativity while creating something you will be proud to have your baby show off. Believe it or not there is an entire industry devoted to all thing baby bling and it's actually quite lucrative! By taking the DIY approach, you get to customize each and every outfit just the way you like. And if it turns out to be something you enjoy and excel at, you can even try your hand at selling them online or to friends and family.
Love the concept but not sure where to start?
Check out some of these ideas for inspiration:
Footwear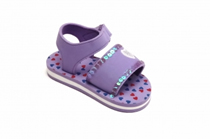 One of the most loved things about babies are those teeny tiny feet. The impossibly small footwear options are endless…and so adorable!
Barefoot sandals – This popular option is great for christening, baptism or any special occasion. If you haven't seen them, basically they wrap around the ankle and onto the big toe. Many are beaded with pearls while others are made of a soft fabric. Adding European rhinestones to the barefoot sandals adds a touch of pizzazz to any occasion. You can simply use Hot Fix rhinestones to attach a bit of sparkle wherever you would like. You can adhere several stones or choose one larger European pendant to go near the big toe. If you have never used Hot Fix rhinestones before, they are flat back stones with a premeasured amount of glue on the back. Using the Hot Fix tool, the heat securely adheres the stone to the fabric. It's an easy and fast way to instantly bling any fabric and is the perfect solution for all baby bling projects.
Baby bootie bottoms– Another current trend is to add rhinestones to the bottom of the booties. For this, the traditional silver rhinestones are great and if you would really like to get creative, try making your baby's initials in another color or another shape in colored stones. These are great for baby photo shoots as well as everyday outings with mom and dad.
Sneakers– Adding bling to the toe of little baby sneakers is another adorable way to add a touch of glam. Switch out the traditional shoelace with a fancy ribbon and add a bit or sparkle there as well. This also works great for baby Ugg boots. You can simply once again use the Hot Fix stones and bling them wherever you would like.
Baby Bottles
One thing you probably never considered blinging out is your baby bottle…but you should! There are a number of ways to do this. Some prefer to add colored stones to the lid only while others cover the whole bottle. There is no right or wrong way to bling your baby's bottle so just do whatever inspires you. If you have a clear bottle, try using different colors to make different shapes. You can spell their name, make little foot prints, stars, hearts…let your imagination go wild.
Pacifier and Clip Set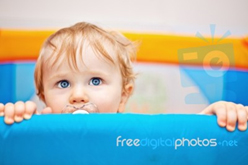 The popular trend toward making pacifiers blingy has led to more and more creative ideas! You can select a mix of gold, brown and black rhinestones and create leopard print or go with black and silver for zebra. Others choose to go with one solid color. If you want to make your pacifier completely unique, create your baby's initials in different color stones than the background. Sport loving moms and dads can promote their favorite team by making the logo out of rhinestones. Of course to complete the look, bling out the clip as well. Stick with the same design or mix it up!
Onesies
When it comes to baby fashion, onesies take the crown. Not only are they functional and comfy, but super cute. Take inspiration from those cute sayings and designs you see in the store and recreate them with rhinestones. Having custom made clothing is the perfect option for money savvy moms and dads. Buy the basic cotton onesies and then customize them for a unique look.
Tiara
Raising a little diva has never been so adorable! With new born baby photo shoots all the rage, having the perfect look captured in those timeless photos is imperative. You can buy tiny plastic (or metal) tiaras at your local craft store and then attach European crystals all around. These create adorable photos that you and your child will appreciate for decades to come.
Headbands and Hats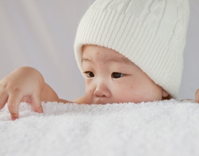 Before all that hair grows in, headbands and hats are a large part of your baby's wardrobe. Try customizing these with the rhinestones of your choice. One adorable idea for little girls is to buy a plain headband with a bow and then fix little rhinestones all around the center of the boy. For little boys, those adorable little hats can be customized too! Add your favorite sports team logo or any design of your choice.
Clothing Hangers
How else would you hang your blinged out baby clothes then with blinged out baby hangers? Attach a thick bow to the top of the hanger and then attach rhinestones all over the rest. This will add a bit of sparkle to the room and will leave you wanting to showcase your baby's clothing in their room. These are also great gifts for other moms in your circle of friends or family.
And if you are feeling left out…..
Make your own "mommy and me" matching shirts. This is an adorable way to bring a little sparkle in to your own life too. Check Pinterest and baby clothing stores for inspiration. There are a ton of cute sayings you can add to these shirts that will be sure to get a smile from your friends and everyone who sees you. You can also extend this idea to the older siblings in your family. You can custom make big brother and big sister shirts so that they feel included and excited to have a little brother or sister.
Author
Jason Pistiner
Google