Have you ever noticed the more bling and pizazz a Halloween costume has the more it costs? What if you have that pretty little princess at home who keeps asking for more sparkle? Or perhaps it's your inner glowing goddess who wants that show-stealing, eye-catching bling for the Halloween ball?
Well, the good news is that you don't need to compromise your budget to satisfy your Halloween needs. You also don't need to be able to make the entire costume from scratch to get creative. Simply buy the base for your costume and add all the sparkle and shine you want for much less! More money in your pocket and more sparkle on your costume…now that's what we love!
Not sure where to start? Here are some of our favorite ideas for Halloween bling:
Rhinestone Enhanced Makeup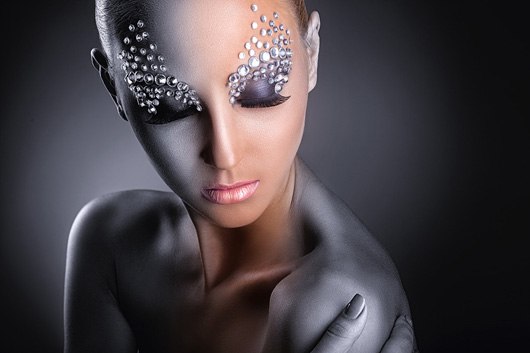 Make an unforgettable entrance with face jewels! Halloween is the one time of the year that you can let your inner bling diva out in full swing. First you will want to completely cleanse your skin and make sure that you are applying your rhinestones to a hairless area free of lotion or oil. You can briefly cleanse the area with an alcohol swab and let dry. Next, you will apply the adhesive of your choice. Try out the adhesive prior to the event to make sure that you will not have an adverse reaction. If you are using fake eyelashes, that same glue can help secure the rhinestones to your skin. Using tweezers, place the rhinestones (flat side down) in just a dab of the adhesive and then gently touch the rhinestone to your face. Allow to dry for a few seconds and move to the next! It's as easy as that.
Festive Halloween Shirt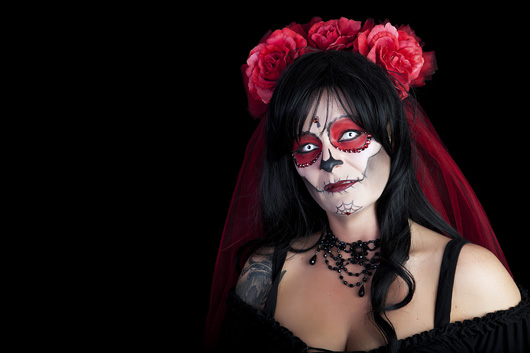 Getting the kids ready for the Halloween fun can start with some festive clothing all October. Simply buy some plain t-shirts (or Halloween themed ones) that could use some extra bling. This is such a fun project and a great way to let your imagination run wild. Rhinestones come in so many different shapes, sizes and colors so choose your favorite and use patterns (or your own imagination) to create creepy designs or Halloween greetings. This is a great way to personalize your Halloween wear. There are several ways you can attach the rhinestones to your fabric. If you would like a super simple and fast application method, you may want to opt for hot-fix rhinestones. Using a specially designed wand you can apply heat to these stones which already have glue on them. As the heat transfers, the glue warms and adheres the stone to the fabric. If you are handy with a thread and needle, you can also choose to sew rhinestones on as well.
Bling Accessories
Have you ever noticed that some of the accessories that come with Halloween costumes are kind of blah? This is the perfect opportunity to put your creativity to work! Add rhinestones to your princess crowns, pirate swords, fairy wands…you name it! If you ask us, every Halloween costume gets better with a little bling, no matter how sweet or scary!