If you are like us and just cannot get enough European, your day is about to get a lot better! If you haven't seen it yet, it's about time you check out the new Crystal Collection app. It's available in the Apple Store. The application includes the entire crystal catalog complete with 15,000 loose crystals and an additional 400,000 forward-integrated elements.
European crystals have been a staple in many aspects of fashion and home design for more than 100 years. These sparkling, precision-cut lead crystal glass pieces are used in everything from chandeliers to shoes and necklaces and are embraced by consumers and fashion designers alike. Some things never go out of style…these crystals are one of them!
So what does this mean for you?
Now while you are planning your new latest and greatest European crystal creations, you can browse all options easily on your mobile device. It's not only helpful for resellers to know every option out there, but it's also designed for leaders in the fashion industry and consumers like you.
European crystals are some of the most versatile elements out there when it comes to design. While a simple single pendant can completely transform an outfit there are so many more uses. Do-It-Yourself crafts are once again becoming popular and with social media sites like Pinterest, you could spend all day finding new and different uses for these gorgeous sparkly crystals. From accents on baby bottles to blinged out belts and accessories, you are only limited by your imagination…and now you imagination has more ammunition to run wild with the new crystal collection app.
Seek inspiration in the many beautifully photographed images of the latest trends in color, shape and size.  
Get Ideas for Jewelry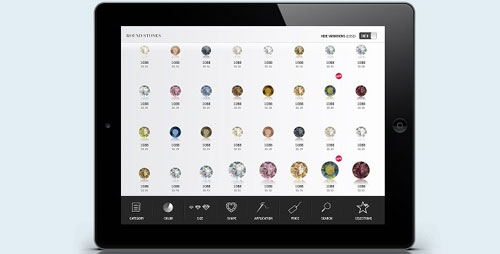 Jewelry making can be a great way to make a profit or simply a fun outlet for creativity. Whether you are creating looks to sell or wear, having a visual guide to all your options at home will help you decide what looks you want to create before you even step foot in a store or order online. If you feel frequently overwhelmed when you are faced with too many options, the app also offers search and filter options to help make choosing easier. Sort by color, size or cut and begin sketching out the initial plans for a gorgeous piece of jewelry that will be a staple of your wardrobe for years to come.
Create Stunning Outfit Accents

There are more ways to use crystals than you probably can even image! One trend that seems to be gaining speed at an incredible rate is the crystal accent. This works for casual clothing as well as business and dress outfits. If you're a sports fan, browse the crystals in your favorite team's colors and create a logo or team mascot on your shirt, jacket or baseball hat. Simply search the app for the colors you are looking for and let the many crystal types inspire you! Other accent pieces include crystals on sleeves, around collars or even as buttons. Get ready to be creative! The new app will leave you inspired and ready to tackle your next project.
Find New Trends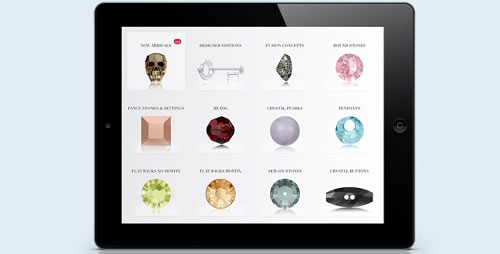 Fashion designers are always on the lookout for new colors, prints, designs and most certainly new sparkly options! Check out the latest trends in crystal colors and shapes on the new app and stay up-to- date on new fashion trends. You can have fun checking fashion magazines, celebrity tabloids and entertainment shows on television. You can then find the crystals you love by searching the app and even using the drag and drop function to place your favorites into categories.
Think Shoe Designs

Runway carpets are lighting up as more and more designers are turning to European crystals to ramp up their shoe designs. In fact, Alejandro Ingelmo (a noted designer out of New York) began using the crystals in an architectural way rather than for mere decoration in his shoes. His love for crystals and denim meet in his many designs. If you don't have the $850 to $2500 to splurge on his glamourous designs, you can recreate the look yourself with your favorite pumps and your selection of gorgeous crystals. With the search function, you can see which crystals are available in the color and shape of your preference. To follow the lead of this amazing designer you can also extend this trend to men's shoes as well.
Check out Past Season Trends

What's old is new again! Look at the past season's popular crystal trends and use them for fashion inspiration. As seasons change, so do popular colors and sizes for crystals. Once the season comes back again, use these as a guidelines to create your visions.