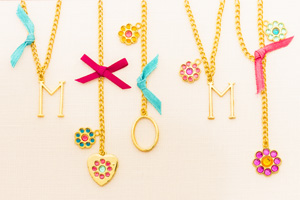 With Mother's Day right around the corner, it's time to give some serious thought to what you are giving mom this year. Chances are, one of the first Mother's Day gifts you gave her was handmade so why not stick with the tradition with a DIY gift this year? It might not be those same cute little painted handprint posters you made for her as a child, but we have a feeling she will love it just as much. So what's this amazing DIY gift, you ask? It's a one-of-a-kind European crystal charm!
What Makes European Crystals Different Than Others?
You may have heard before that European crystals are the "diamond" of the crystal market but do you know what makes them so special? Well, no one knows for certain since the family behind these beauties keeps the exact process a secret (can you blame them?) but these quality lead crystals cast the most amazing spark and brilliance and for this reason, they are widely loved. This adoration is not only confined to jewelry makers, but also fashion designers and interior decorators. These crystals are surprisingly versatile and can be used in a variety of ways to add a touch of elegance
Time to Get Crafty!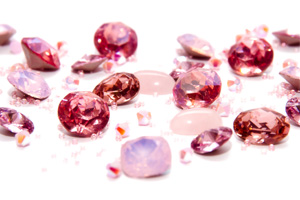 There are a variety of ways that you can incorporate European pendants or charms in to your gift this year. Here are 3 ideas to get your imagination going!
European Pendant Light Catcher
Here is one idea that you may have never even considered! Half the reason that European crystals are so popular is the gorgeous way that the sun hits the glass and reflects the light displaying beautiful colors so use this in a great DIY home project. There is no wrong way to run with this idea! Simply choose your favorite crystal pendants and get ready to create a beautiful gift. There are several different materials that you can use for the body of the sun catcher depending upon your own personal preference. Some of the most popular include fishing line, spiral wire (you can find this at a jewelry or craft store) or thicker copper wire. Each of these materials will create a different and unique look. Simply arrange the pendants however you would like them and attach them to the body of your choosing. When these are hung in a window, the beautiful rainbows will light up any room once the sun touches them.
European Necklace Accent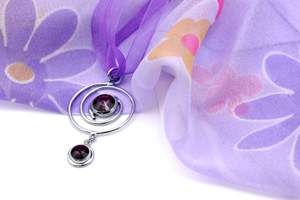 This is one of the easier DIY projects but the results are super glamourous. Give your mom the gift of a European statement necklace. Choose from the many different crystal shaped pendants (which include starfish, heart, stars and teardrop to name a few) and head to your local beading shop to create a one-of-a-kind look. If you prefer the simple look of a single pendant, simply add a pendant holder to a silver or gold chain and you are ready to give your gift! If you prefer using the crystal as the main focal point but want to highlight it with beads on either side, this is a great chance to do so. Pick out your beads, string them and choose a clasp and you are ready to go!
European Wine Charms
If your mom is a wine connoisseur who enjoys entertaining then European wine charms are the ideal gift! You can find metal 1" hoops at a jewelry store (these are actually used for making earrings) and make your very own personalized charms. Use needle nose pliers to grab the end and allow you to easily slip on the charms in addition to any other decorative items you would like to use. In addition to the crystal, a fun idea is to find a bead with the initials of your mom's friends or wine-drinking family members. These personalized treasures will be the life of the party.