If you are a rhinestone junkie, than you can already spot the difference between a European crystal and a regular rhinestone. Hollywood bathes itself in these beauties for a reason! From red carpet looks to couture runway evening gowns, European crystals win out time and again over their sparkly rivals.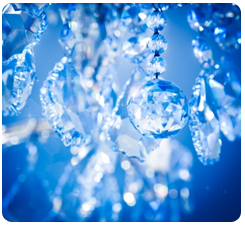 Do you know what sets these crystals apart from the others?
Here is a brief history and roundup of what makes a European crystal different.
The History of the European Crystal
While these crystals are wildly popular today, they have been around since their creation in 1892. They were produced by the crystal's namesake Daniel European with the help of an automatic cutting machine. A few years later, European used his findings to build a company in Wattens, Austria that has gained popularity ever since. With the aid of his three sons, European began perfecting the formula for these crystals. It didn't take long for them to become staples in not only the fashion industry but also as accessories, ornaments and chandeliers. In fact, his crystals were used in chandeliers in the Metropolitan Opera, museums worldwide and even in castles. The unique shine and brilliance of the European crystal made them desirable across many different industries.
In 1913, European began noticing the boom in the popularity of his crystals, specifically in the fashion industry. As a result, he created a specific line for the fashion industry. This later evolved into jewelry making in the mid-20th century and by the late 1960s the crystals once again made a comeback in jewelry, fashion and home design.
Today, celebrities and their fans alike embrace all the shine, glamour and sparkle that this historic machine cut crystal has to offer.
Key Aspects of European Crystals
1. High Quality
You don't have to be dealing solely with diamonds to see a huge difference in quality at different price ranges, rhinestones are the same. European crystals are made of a much higher quality material than their imitators. From the actual material itself to the cutting and the polishing techniques used, you can see the higher level of quality present in today's crystals. They are made of a faceted lead glass that creates a brilliant diamond-like shine that adds elegance anywhere it is incorporated.
2. Shine
The same precision-cutting techniques that give diamonds their brilliance is used on these lead glass crystals. This is why the many different colors shine through the crystal and light is reflected off the many cut surfaces. You can often look at two rhinestones in proper lighting and it is easy to spot which is the brilliantly designed Austrian crystal. There are more facets (up to 14) on each crystal than any competitors as well. When you pair great materials with amazing cutting techniques you will end up with a superior product.
3. Location
In order to be an authentic European crystal, it must be manufactured only in Austria. One of the fastest ways to spot a fake is to see that it is made in the United States or any other country. True to the roots of the company, they must come from Austria.
4. Price
You will certainly get what you pay for when it comes to European crystals. In addition to the manufacturing location of the crystals, another way to spot a fake is a cheap price. There are many imitations that are produced with glass and different cutting techniques. To the untrained eye they may look the same but once you get to recognize the brilliance of a real European crystal there is no mistaking one for an imposter. Of course cost will vary depending on the type you are buying. Bead and rhinestone crystals will naturally be less expensive than larger figurines or certainly chandeliers.
5. Variety of Shape and Color
One aspect that has gained popularity throughout the years for European is the vast differentiation of different shapes and colors. Whether you like the classic white/silver crystal or prefer the brilliant bright colors, there are virtually no limits when it comes to the European collections.
DIY Projects with European Crystals
Thanks to the Internet, more and more people are swapping DIY project ideas. European rhinestones are great for a variety of projects and really, there is no limit to what you can do with them. Here are some trendy ideas that have been popping up all over the Web.
Clothing
Adding a little bling to your clothing is simple with these glam crystals. They make the ideal embellishments for those of all ages. Across the Internet you will see instructions for adhering them to baby clothes, shoes and bottles and also tutorials for making one of a kind bachelorette or bridal shirts. With the variety of colors and shapes this makes personalizing anything from loungewear to baseball caps and evening gowns possible. European crystals are extremely versatile.
Bed Accents
The tufted bed is a trend in the DIY world these days. This elegant bed style looks great, especially on the headboard and after each section is properly tufted, sew on or Hot Fix rhinestones are applied to each spot making the bed glamorous and luxurious.
Dancewear
If you have children who are involved in dance, you know that costumes and daily dancewear expenses add up. For this reason, dance moms everywhere have embraced the crystal craze and have done everything from personalizing dance jackets and workout gear to adding glam to competitive costumes.
Nail Art
There is nothing more glamorous than having these shiny crystals at your fingertips…literally! More nail art creations emerge daily, bringing with them more opportunities for sparkle and glam. Some actually cover the entire nails in crystals while others use them as mere accents.
Now that you understand the basics of the European craze, take the time to have a good look at these gorgeous crystals. Once you see these key differences, you will have a hard time going back! Whether you are adding a bit of sparkle to your home or to your outfit, European crystals never disappoint.
Author
Jason Pistiner
Google